3 Pack Monday Gin Subscription Renewal
$84.00
3 Bottles of Monday Gin For Subscribtion Renewals.
CUSTOMER REVIEWS
Customer Reviews
Write a Review
Ask a Question
No more please
This product is not serving my program.
05/03/2021
Lisa C.

United States
Missed G&Ts until Monday!
We started exploring 'zero alcohol' drink options this past January after recognizing just how much booze we were drinking during COVID lockdown. Monday Gin was exactly what we were looking for! It's certainly the best tasting NA gin on the market & there's nothing better than waking up the next morning refreshed and hangover-free!
05/02/2021
Jeff S.

United States
Delicious!
0 calories and 0 alcohol, great complex flavor!
04/23/2021
Richard L.

United States
The Best NA Gin I've Had
Without a doubt, Monday is the best NA gin I've had! I'm not one for over the top juniper in a gin. Monday has just the right amount in the nose and flavor to let you know it's there without being overpowering. Whenever I'm trying a new gin cocktail recipe, Monday is the first bottle I reach for. It never disappoints.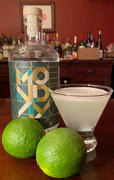 04/23/2021
Paul H.

United States
Monday Gin - SATISFACTION!!
Our 3rd case just arrived, so we'll be able to maintain our healthy routine.