MONDAY
ZERO ALCOHOL WHISKEY
750ML
$45 $52
$52 Value
Free of Alcohol, Full of Spirit
Monday Whiskey delivers a rich, immersive beverage experience. Maturing in new white oak lends rich butterscotch, raisin, and burnt brown sugar to the nose. The palate is layered elegantly with roasted coffee, rich caramel, and warm molasses. The finish is long with spicy heat down the middle with hints of orange.
Zero Carbs, No Sugar, 0 Calories
Hand Crafted in Small Batches
Mixes 1:1 in Classic Cocktails
Made from Natural Ingredients
Vegan, Gluten Free, and Keto
Free Monday Apparel for 3 Bottle Orders when you Subscribe & Save
Zero Carbs, No Sugar, 0 Calories, Vegan
Drink Monday and stick to your gameplan. Whether you're paleo, keto, gluten-free, low-carb, or a parent, entrepeneur, athlete, or just an all-out-go-getter who wants to stay sharp, cheers with Monday to live your best life.
Built on Tradition
Monday Whiskey is hand made in small batches from a Southern California distillery.
Top Shelf
Treat Monday like your favorite premium Whiskey and pour accordingly. Follow your favorite drink recipes to the tee, swapping us in when the call asks for an American classic.
Our Promise
If you're not satisfied with Monday's flavor or experience, let us know and we'll take care of you.
Fast & FREE Shipping
Orders ship same or next business day.
Made by Hand in Small Batches
In our Southern California craft distillery.
Maple Fashioned
* 2oz Monday Whiskey
* Maple Syrup
* Bitters
* Fresh Orange
—
Add Monday Whiskey, 2-3 dashes of bitters, and a bar spoon of maple syrup to a mixing glass. Stir vigorously for 30+ seconds until syrup is completely dissolved. Add one large ice cube to your favorite old fashioned glass. Pour contents in and garnish with a long slice of fresh orange peel.
CUSTOMER REVIEWS
Customer Reviews
Write a Review
Ask a Question
Filter Reviews:
rocks
Zero
whiskey
drink
alcohol
flavors
burn
heat
brands
alcohol spirits
11/16/2021
Lina T.

United States
by far the best NA whiskey I've tried
I've never been one for mixed drinks, so I just sip on this, great for when I'm craving the real thing. Has a nice bit of burn, sweet but not too sweet, all the flavors are perfectly balanced. Other brands have been too syrupy and don't have the same slight burn that this one has - seems like cayenne? I highly recommend.
10/31/2021
Robert M.

United States
It's Not Bourbon
If you're accustomed to top shelf bourbon, Monday Whiskey is not for you. But if you're chasing the sip and socialize experience without the aftermath, though it's an acquired taste, this may be your answer. It works for my cigar and bourbon nights with the guys. And I don't have to worry about the drive home.
10/27/2021
Kimberly a. Walden

United States
It's delicious!
I've been looking for a non-alcoholic whiskey drink that tastes good straight on the rocks and has that familiar "burn". I finally found Monday and it checks all the boxes. Excellent choice for the non-drinker and for those who want the whiskey experience without the alcohol. Finally! Thank you!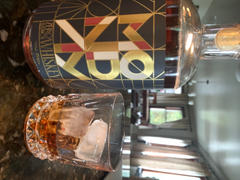 10/27/2021
Guinevere B.

United States
Delicious!
This is one of the very few 0 ABV spirits that I've tried that I like to drink straight -it's that good! (It is also delicious in cocktails!) I love that like alcohol-based spirits, it has a complex flavor profile that moves through different tastes as it moves through your palate. On the attack, there are bright citrusy notes, in the mid-palate, hints of cacao nib and toasted grain, with a spicy, capsaicin finish.
10/18/2021
Pamela H.

United States
Very good!
Interesting pepper aftertaste that I found very enjoyable on the rocks. It also makes a passable Manhattan with Lyre's Aperitif Rosso but ONLY if Luxardo cherries are used. I will re-order.