MONDAY
ZERO ALCOHOL WHISKEY
750ML
$44.99 $51.99
$51.99 Value
Free of Alcohol, Full of Spirit
Monday Whiskey delivers a rich, immersive beverage experience. Maturing in new white oak lends rich butterscotch, raisin, and burnt brown sugar to the nose. The palate is layered elegantly with roasted coffee, rich caramel, and warm molasses. The finish is long with spicy heat down the middle with hints of orange.
Zero Carbs, No Sugar, 0 Calories
Hand Crafted in Small Batches
Mixes 1:1 in Classic Cocktails
Made from Natural Ingredients
Vegan, Gluten Free, and Keto
Free Monday Apparel for 3 Bottle Orders when you Subscribe & Save
Zero Carbs, No Sugar, 0 Calories, Vegan
Drink Monday and stick to your gameplan. Whether you're paleo, keto, gluten-free, low-carb, or a parent, entrepeneur, athlete, or just an all-out-go-getter who wants to stay sharp, cheers with Monday to live your best life.
Built on Tradition
Monday Whiskey is hand made in small batches from a Southern California distillery.
Top Shelf
Treat Monday like your favorite premium Whiskey and pour accordingly. Follow your favorite drink recipes to the tee, swapping us in when the call asks for an American classic.
Our Promise
If you're not satisfied with Monday's flavor or experience, let us know and we'll take care of you.
Fast & FREE Shipping
Orders ship same or next business day.
Made by Hand in Small Batches
In our Southern California craft distillery.
Maple Fashioned
* 2oz Monday Whiskey
* Maple Syrup
* Bitters
* Fresh Orange
—
Add Monday Whiskey, 2-3 dashes of bitters, and a bar spoon of maple syrup to a mixing glass. Stir vigorously for 30+ seconds until syrup is completely dissolved. Add one large ice cube to your favorite old fashioned glass. Pour contents in and garnish with a long slice of fresh orange peel.
CUSTOMER REVIEWS
Customer Reviews
Write a Review
Ask a Question
Filter Reviews:
caramel notes
raves
warmth
whiskey
palette
heat
bourbon
replacement
rocks
cocktails
09/24/2021
Angie V.

United States
LOVE THIS NA WHISKEY!
Bourbon was my favorite alcohol, I love the warmth and the caramel notes... so I've often been disappointed in finding a zero proof replacement. Then I tried Monday! Everyone raves about their Gin, but I prefer the whiskey. Do I drink it on the rocks like bourbon? No... but it makes a great replacement for cocktails. The definitely captured the caramel notes and even a bit of heat in the palette. Love it and would like to see Monday create more!
09/22/2021
Ora N.

United States
Best of the Bunch
This is my favorite of the NA whiskeys on the market. Like the gin, it does well in both simple and complex cocktails. When I'm lazy this, a high quality ginger beer, and a dash of NA bitters is just perfect.
09/18/2021
Gary B.

United States
Surprisingly Tasty
I'm really enjoying the Monday Zero Alcohol Whiskey. It has a spicy taste and a bit of vanilla aroma. I pair with a dash of my favorite bitters (regular, blood orange or cocoa) with a big square cube of ice. My next recipes are going to be variations on delicious Manhattans. And waking up the next morning I'm very clear headed. Thanks guys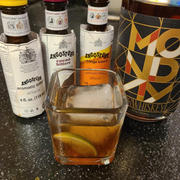 09/05/2021
Mr. C

United States
Disappointed at first, but I've come to really enjoy it
This whiskey was the first non-alcoholic liquor substitute I ever tried. I knew it wouldn't be the same, but I wasn't sure how different it would taste. My first reaction was that it just tasted like flavored water. However, I tried some of the recipes that come with the product, and they actually surprised me. Even with a little bitters and simple syrup, I found it delicious, unique, and complex. I enjoy the ritual of mixing a drink at the end of the day like I used to. I did do a little more looking into why these non-alcoholic liquor substitutes are the way they are, and the one thing that sticks with me is how important alcohol is for mixing and transmitting flavors. To compensate, companies like Monday are filling these bottles with even more natural flavors than you would get in a bottle of ordinary whiskey, and with a great deal of craftsmanship, even if it doesn't take as long to brew. It makes me wonder, without the alcohol, would whiskey taste any better? In fewer words, it has a unique flavor; mix it in a drink, and I don't think you will be disappointed.
09/02/2021
Jose L.

United States
It does the trick
It has an interesting smoky and spicy taste, by itself and room temperature. Cold presents a smoother taste. I found it closer to rum than whiskey. For mock tails it was fantastic!!!!